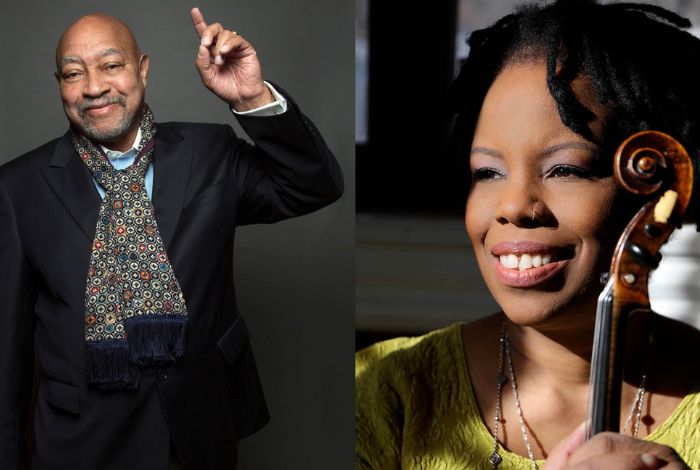 Kenny Barron and Regina Carter
When
Occurs on Sunday December 3 2023
Approximate running time: 2 hours
Venue
Event Notes
×
The sounds of the violin and piano go together as naturally in jazz as in the classical field -especially when the duo performing is Regina Carter and Kenny Barron. Preeminent violinist Carter swings wonderfully while at times maintaining a poise straight from the classical conservatory. The legendary pianist Barron is inspired by her spark to take chances. The duo's latest release, Freefall , recorded in New York in late 2000, "is close to flawless," says JazzTimes. "The cohesion and joy of this duo's music-making is consistent from beginning to end."


Besides the beautiful playing, the album's highlight is its tremendous range. It blends Afro-Cuban flavours with a delicate Sting cover and a bluesy take on Thelonious Monk. The duo also excels when they venture further afield, as in the quirky Barron original "What If," and the improvised title track, both of which recall early 20th-century classical composers such as Bartók and Stravinsky.


Called "one of the top jazz pianists in the world" by The Los Angeles Times, Kenny Barron is an eleven-time Grammy nominee who played with Dizzy Gillespie in the early 1960s. Extensive work with Freddie Hubbard, Yusef Lateef, Stan Getz, James Moody and Ron Carter built his peerless reputation as a sideman, while he has recorded nearly 50 albums as a bandleader.
Regina Carter is a National Endowment For the Arts Jazz Master, the highest honor the United States can give a jazz artist. The honour follows her MacArthur Fellowship and Doris Duke Artist Award. Carter has released 11 solo albums and has worked with Wynton Marsalis, Billy Joel, Joe Jackson, Mary J. Blige and Dolly Parton.
"Freefall contains some of Carter's most lyrical playing plus Barron's typically poised piano work but, better than that, has a purity and a spontaneity that is always engaging and at times totally captivating. I was expecting excellence technically - these two are musicians of genuine class - I was not expecting quite the emotional richness that Freefall delivers in such abundance." - Pop Matters


Watch a video of Kenny and Regina HERE


Presented as part of Kit Eakle's Jazz'N'theViolin Concerts.

Sorry, no refunds on tickets.