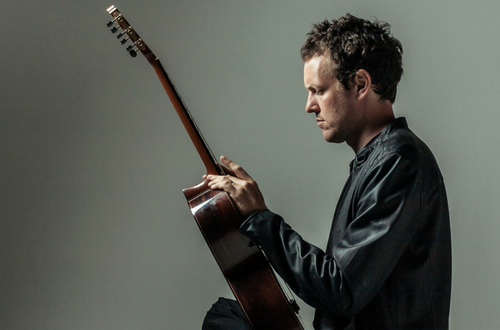 Derek Gripper
When
Occurs on Sunday March 19 2023
Approximate running time: 2 hours
Venue
Event Notes
×
Derek Gripper's solo guitar concert is a conversation between African traditions and Western composition—most notably the music of Toumani Diabate, J.S. Bach and Arvo Pärt. Gripper is known for his groundbreaking technique for evoking the West African kora on the guitar. He's performed at Carnegie Hall, Kennedy Center, Royal Albert Hall and many other esteemed venues.
Derek Gripper's painstaking, note-for-note transcriptions of the complex compositions of Toumani Diabaté allowed him to discover a way of playing them on six-string guitar. The result appears on his ninth album, One Night on Earth. The album created an unprecedented meeting point between the written tradition of Western classical music and the oral tradition of the West African griots.
Critical acclaim was quick to follow. Classical guitar legend John Williams said he thought it was "absolutely impossible until I heard Derek Gripper do it." Toumani Diabaté, himself, asked for confirmation that it was indeed just one person playing one guitar. Both invited Derek to collaborate with them.
Gripper's recent recordings, including Billy Goes to Durban (2021) and Sleep Songs for My Daughter (2022) dovetail between original compositions, spontaneous improvisation and recitations of works by composers like Bach, Pärt, Salif Keita, Fanta Sacko and Baaba Maal, bringing seemingly disparate traditions and musical practices together in a seamless guitar experience like no other.
"He's opening a whole new repertoire of classical guitar music… bringing African guitar into the classical mainstream." — Simon Broughton
"Gripper has cracked it… his playing has a depthless beauty, which does full justice to the complexity of Toumani's compositions… A staggering achievement on solo guitar." — Nigel Williamson, Songlines Magazine This event takes place at St. James Hall, 3214 W 10th Avenue, Vancouver. In partnership with Rogue Folk Club.
NO REFUNDS on tickets
E-tickets not available for this performance
Tickets will be available at WILL CALL at St James Hall