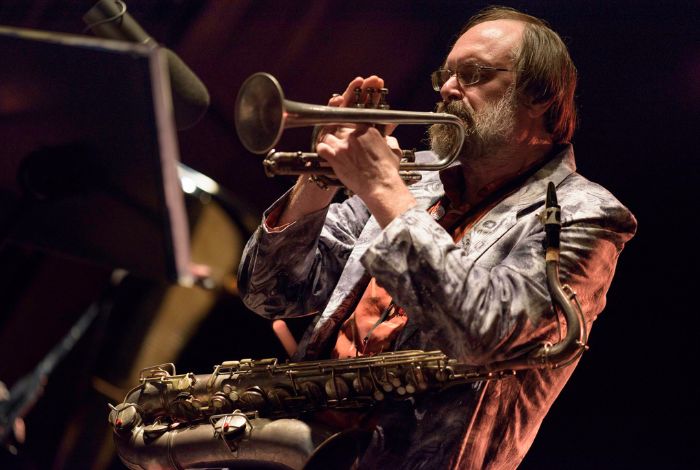 Scott Robinson
When
Occurs on Friday February 3 2023
Approximate running time: 2 hours
Venue
Event Notes
×
One of today's most wide-ranging instrumentalists, Scott Robinson has been heard on tenor sax with Buck Clayton's band, on trumpet with Lionel Hampton's quintet, on alto clarinet with Paquito D'Rivera's clarinet quartet, and on bass sax with the New York City Opera. On these and other instruments, some of them quite unusual, such as theremin and ophicleide, Robinson has represented nearly every imaginable style of the music, from Braff to Braxton to David Bowie's 2014 album Nothing Has Changed. Indeed, his discography now includes more than 275 recordings, four of which have won Grammy awards. Robinson's 20 releases as a leader have garnered five-star reviews from Down Beat Magazine. His 2019 album Tenormore by the Scott Robinson Quartet, won Album of the Year in a JazzTimes readers' poll. He has performed at Carnegie Hall, the Smithsonian Institution, and the White House.
Robinson, who collects the rarest of instruments, has produced an eclectic array of music for his ScienSonic Laboratories label. His group was selected to be the closing act at the Knitting Factory's Sun Ra Festival. The leader/composer/multi-instrumentalist has been called "Jazz Futurist, Mad Scientist" by the Wall Street Journal, which reports, "There's no one else doing anything close to what Mr. Robinson is doing."
For this concert, Robinson will be featured on works by Maria Schneider, Bob Brookmeyer, and Thad Jones, all of whom enjoyed the privilege of having Scott in their ensemble.
with CapU Jazz Ensembles
NO REFUNDS ON TICKETS