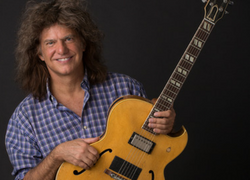 An Evening with Pat Metheny
When
Occurs on Saturday October 20 2018
Approximate running time: 2 hours
Venue
Performance Notes
×
This event takes place at the Vogue Theatre, 918 Granville Street.
with Antonio Sánchez, Linda May Han Oh & Gwilym Simcock
The Guardian calls it "a tour de force from an improv king". Twenty-time Grammy-winning guitarist Pat Metheny, on the heels of his induction as a NEA Jazz Master (the highest honour in jazz musicianship) will perform in Vancouver as part of an extended run of dates of a career-spanning showcase. Accompanied by an ensemble comprised of drummer Antonio Sánchez, bassist Linda May Han Oh & pianist Gwilym Simcock, Metheny is excited to play selections from throughout his career, with a strong element of improvisation. "It could really be anything and everything," he says. "I have already written a bunch of new music inspired just by the thought of this presentation, but I could also imagine playing only old music one night, or even playing entire albums. I like the idea of keeping it open and letting it become whatever it winds up being. At this stage, I have so much music and it all is kind of one big thing for me without borders or distinctions between this period or that period. With Antonio, Linda and Gwilym, I think we could and will do a wide range of things from throughout all of it – and maybe uncover what the next period has in store as well".