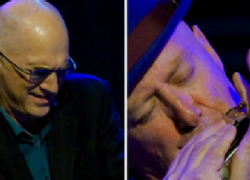 Keith Bennett & Miles Black
When
Occurs on Friday June 29 2018
Approximate running time: 2 hours
Venue
Performance Notes
×
It's an ode to two musical visionaries: Jean-Baptiste "Toots" Thielemans and Stevie Wonder, and their love of the humble harmonica. Thielemans brought the chromatic harmonica to jazz, and Stevie Wonder brought the chromatic harmonica to R&B. In this special homage, the Canadian musical notables Keith Bennett and Miles Black (along with Joel Fountain on drums and Andre Lachance on bass) will perform harmonica-heavy jazz standards and vocal classics befitting both legends. Bennett has performed as a chromatic harmonica soloist with the Vancouver Symphony Orchestra, and is also a vivid singer and guitar player. With the accompaniment of Black's velvety piano (Black has established himself as one of Canada's most accomplished jazz pianists, and plays regularly among contemporary jazz greats) this tribute to two harmonica greats promises to be both magnetizing and memorable.
In partnership with TD Vancouver International Jazz Festival
This event takes place at Presentation House Theatre, 333 Chesterfield Avenue, North Vancouver.