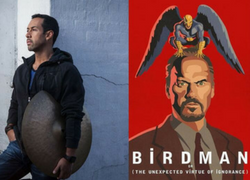 BiRDMAN LiVE
When
Occurs on Thursday February 1 2018
Approximate running time: 2 hours
Venue
Performance Notes
×
This event takes place at the Vogue Theatre, 918 Granville Street, Vancouver.
Film is Rated 14A. Suitable for persons 14 years of age or older. Persons under 14 years of age must be accompanied by an adult. May contain violence, coarse language or sexually suggestive scenes, or any combination of them.
"With his drumming so perfectly punctuating the film—propelling it forward here, adding tension there—audiences may find it easy to forget he is performing live. But with the film's opening and closing credits, attention shifts back to the man on stage and his virtuosic and varied drumming becomes a pleasure in itself." – The Guardian
Mexican (now living in New York City) percussionist, composer and five-time Grammy®-winner Antonio Sánchez performs his unique and vibrant percussion-only score live-to-picture with a screening of BiRDMAN, which won the Oscar® for Best Picture in 2015. This special, limited performance is touring major concert venues including Belgium's Centre for Fine Arts and Los Angeles' Walt Disney Concert Hall. Don't miss this one-night-only Vancouver show.