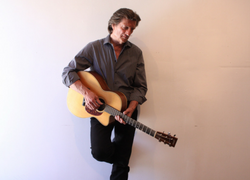 Chris Smither
When
Occurs on Saturday March 10 2018
Approximate running time: 2 hours
Venue
Performance Notes
×
This event takes place at St. James Hall, 3214 W 10th Avenue, Vancouver.
"[Smither] taps his foot to keep the rhythm, much like the late blues legend John Lee Hooker. His finger-picked guitar lines are sleek, unhurried and insistent. And then there's the voice –equal parts gravel and molasses, Smither's singing sounds like a distillation of the folk and blues heroes he grew up listening to in New Orleans." - NPR
"Bathed in the flickering glow of passing headlights and neon bar signs, Smither's roots are as blue as they come. There is plenty of misty Louisiana and Lightnin' Hopkins in Smither's weathered singing and unhurried picking. So fine." - Rolling Stone
Profound and poetic, Chris Smither finds deep inspiration in the blues,American folk music, modern poets and philosophers. Reviewer praise his smoothly weathered southern drawl and distinctive, acoustic finger-picking style. "Smither is an American original, product of the musical melting pot, and one of the absolute best singer-songwriters in the world." [AP] His songs have been recorded by Bonnie Raitt, Emmylou Harris, Diana Krall, and he was recently feted with an all-star tribute featuring artists including Josh Ritter, Loudon Wainwright III, Dave Alvin, Peter Case and Raitt.
Co-presented with the Rogue Folk Club.