Sister Jazz Orchestra Celebrates International Women's Day Friday, March 10, 2023 at 7:30 PM PST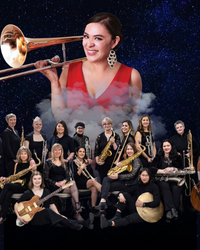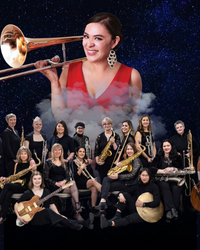 You've selected
Friday, March 10, 2023 at 7:30 PM PST
×
Unique in Canada, Sister Jazz Orchestra is a powerhouse 18-woman jazz ensemble showcasing Vancouver's top female jazz artists.
Directed by Christian Morrison, SJO has a mission: Empowering today's jazzwomen to inspire tomorrow's. This straight-ahead jazz celebration also shines a light on female writers who have influenced the past nine decades of jazz, including the up-and-comers who are redefining big band jazz for the next generation. This captivating musical journey of discovery will leave you energized, moved and enriched. Bring the girls and young women in your life to see some serious female power!
Sister Jazz Website
Watch a Video of Sister Jazz
This performance will feature award-winning trombonist Audrey Ochoa and five exciting newly-commissioned works for the band by emerging writers.
__________________________________
Audrey Ochoa, Guest Artist
Trombonist Audrey Ochoa is a rising star on the Canadian jazz scene, already earning multiple artistic accolades including the 2020 Jazz Artist of the Year from the Western Canadian Music Awards, the 2019 Edmonton Music Award for Jazz Recording of the Year and the Edmonton Music Prize.
PJ Perry describes Audrey as "a real talent," and mentor and trombone master Hugh Fraser described her as "an inspired artist that embodies the talent, inspiration and focus to make a major contribution at the highest level." Having worked with or shared a stage with jazz legends like Chris Potter, Marcus Miller, Hilario Duran, PJ Perry, and Tommy Banks, Audrey has also played with international musicians like Lew Tabackin, Dan Akroyd and the Temptations.
Audrey has found a home in composing her own tunes that often have a Latin feel, and definitely convey her sense of humour. She released her debut album "Trombone and Other Delights" in 2013, and a second album "Afterthought" in 2017. In January 2020, Audrey released her third album, "Frankenhorn". The album has been played extensively on jazz radio across North America (#1 in Canada and #1 in the US the same week in March 2020). She was featured in Downbeat Magazine, All About Jazz, Canadian Musician, SOCAN Words & MusicOnline, WholeNote and the Edmonton Journal.
Audrey's Website
Watch a Video of Audrey
__________________________________
Opening Act: NiteCap
NiteCap is Capilano University's premier jazz vocal ensemble, under the direction of Dr. Laura Harrison. Enjoy mesmerizing harmonies and spirited scatting by 10 vocalists atop a tight rhythm section!
__________________________________
This performance is generously sponsored by Pigott Properties Group. Sister Jazz Orchestra is grateful to be supported by the City of North Vancouver and the District of North Vancouver through the Arts & Culture Grants Program of the North Vancouver Recreation & Culture Commission and by the SOCAN Foundation
Limited discounted tickets are available for youth. NO REFUNDS ON TICKETS.
Venue
Capilano University
2055 Purcell Way
North Vancouver BC V7J 3H5
Performance Notes
Featuring guest trombonist Audrey Ochoa + Opening Act NiteCap